Mark Hal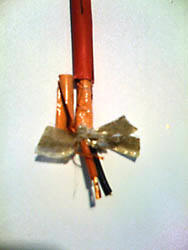 l and Ben Piper of Pentair Pyrotenax/Raychem, a manufacturer of mineral insulated (MI) cable, recently posted important information in our comments section regarding the installation of MI cable in Chicago and per UL standards.
Ben Piper pointed out Chicago allows MI to be installed without a raceway when used with a required fire alarm and/or emergency voice communication system.  Additional exceptions to the mandatory use of  raceways for these systems are elevator traveling cables and 2 hour rated metal clad (MC) cable that is listed as an electrical circuit protective system.
Mark Hall let us know that MI cable is tested by UL outside of raceways, so installing it in a raceway may violate the UL listing.  If  there is a question regarding the installation of MI in conduit, it appears that beyond being impractical and unnecessary, it may actually defeat the rating as well.
The issue regarding two hour rated cable use in fire alarm & voice evacuation systems is evolving.  We'll keep you up to speed as we find new details.  For more information, leave a comment or contact us directly at 630.434.7900.  Don't forget to use Gamewell-FCI by Honeywell products for all you life safety needs!