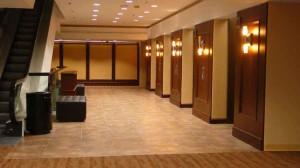 I recently received a good question through the comment section regarding one of our elevator recall blogs. The question was:
Is it proper to use one addressable fire input into an elevator recall point then parallel out of this point into another separate elevator controller recall input?
A: If separate controllers handle cars in the same lobby as an activated smoke detector, then that would be advisable. This may be the case in a high rise situation where one controller is associated with the 'east bank' of cars in a lobby and another controller handles the 'west bank' of the same lobby. However, if the separate controllers' cars are not in a common lobby, then that would not be a good practice. Until smoke is present in the actual elevator lobby, hoistway or machine room of a bank of elevator cars, the elevators remain a valuable egress option for many and there is no code related reason to remove that as an option.  In fact, unnecessary recall of an elevator bank during a fire alarm evacuation would actually escalate an already dangerous situation by inducing panic, slowing egress and channeling all occupants into the egress stairwells.  Additionally, persons that have limited mobility would be left without a viable egress option. Sometimes erring on the side of caution is not the best solution.
As a Platinum Distributor of Gamewell – FCI products, Affiliated Fire Systems has the equipment, expertise and support you need to install, test, inspect and service your fire alarm and emergency voice system. If you have any questions regarding your life safety needs, contact us via our 'Contact Us' page on our website, or email me directly at generowe@affiliatedinc.com.