Last week we introduced the Chicago Life Safety Ordinance and some of its requirements. Click here to review. This week we'll answer the question we left off with: Why are some high rises fully compliant and some not compliant at all?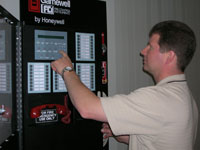 As a response to the differences in economic and occupancy realities between residential high rises (apartments, condominiums)and commercial high rises (offices, businesses, hotels), residential high rises and historical properties were exempted from installing sprinkler systems. However, they were required to have their buildings professionally evaluated for life safety viability. A scoring system was established for various aspects of the building, including smoke compartmentalization, dead end corridors, electrical panels and fire alarm/voice evacuation systems. If a building did not receive a passing score, the owners were to present a plan for city approval to attain a passing score. All this was to have been done by 2006. In order to give these properties time to budget and install, the actual work and subsequent re-evaluation to achieve a passing score was to have been done by 2012. So, again, why aren't they compliant?
When the Great Recession hit, the value of residential high rises took a big hit. Many owners & associations were concerned that the introduction of an additional cost to the renters & condo owners would discourage sales and encourage vacancies. A large lobbying effort directed at the Chicago city council to delay or remove the ordinance requirements for residential high rises emerged. The resulting compromise moved the compliance date back to January1, 2015. That's why 633 out of 725 residential high rises were not compliant at the end of 2011 (87%). Since 2012, an additional 45 have passed, 7 in 2013.
Next time we'll look at what options these buildings have to achieve a passing score. Affiliated Fire Systems has the equipment, expertise and support you need to install a problem free fire alarm and/or emergency voice system. If you have any questions regarding your life safety needs, contact us via our 'Contact Us' page on our website, or email me directly at generowe@affiliatedinc.com.