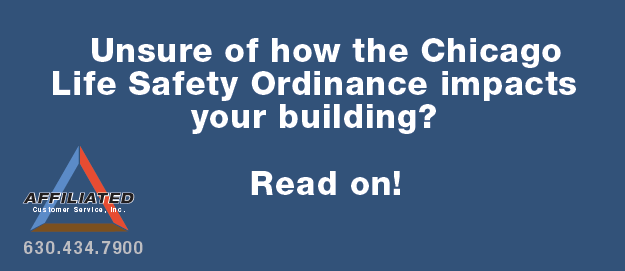 In our last post on the Chicago Life Safety Ordinance, commonly referred to as the Chicago High Rise Ordinance, we looked at some of the reasons a majority of residential high rises in Chicago are not compliant with the ordinance. Let's now look at what the owners & managers of these buildings are up against in order to become compliant.
Any Chicago high rise building that is exempt from having sprinklers must have a Life Safety Evaluation performed by a state licensed architect or professional engineer, regardless of whether they have sprinklers or not. The evaluator reviews various aspects of the building to assign it a score, based on values provided by the Chicago Building Code (CBC). Permanent features such as individual unit resistance to fire and smoke spread, corridor lengths and facade construction are assessed, as well as building systems. Building systems include the heating, venting and air conditioning systems, electrical systems, PA systems and fire alarm systems. Other items looked at are inter-floor firestopping, stairwell widths and number of building exits. Once building scores are assigned, the evaluator checks to see if the building meets minimum scores, as prescribed by the CBC. If not, he makes recommendations in order to achieve a passing score. Once agreed upon, the results and subsequent recommendations are filed with the city as a plan of action to become compliant.
It sounds easy enough, but points are not given merely for meeting construction standards or for having systems in place. They must perform to certain standards to get points. The bottom line is that most buildings without sprinkler systems or emergency voice alarm systems generally cannot achieve a passing score. The buildings that do are built to exceed construction codes and have an effective smoke control system in place. Most residential high rises are not built or maintained this way, so let's focus on a more common scenario.
In our next edition, we'll examine the resistance to implementing the plan of action and what can be done to help owners & managers overcome this resistance. Affiliated Fire Systems has the equipment, expertise and support you need to install a problem free fire alarm and/or emergency voice system. If you have any questions regarding your life safety needs, contact us via our 'Contact Us' page on our website, or email me directly at generowe@affiliatedinc.com.