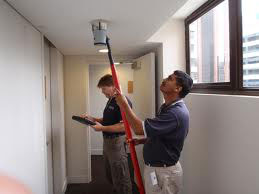 Commercial fire alarm systems are a lot like referees. You really shouldn't notice them until they are needed. How does a property owner or manager keep it that way, plus know that it will work when needed? A proper test and inspection of the system is the answer. Most municipalities require an annual test and inspection of commercial fire alarm systems. If they don't, insurance companies will probably require one if lower rates are offered by having a fire alarm system in place. In order to ensure proper operation of the system, many municipalities also require that the testing be done in accordance with NFPA 72 testing standards and that the results of this test must be reviewed by the fire department.
What does all this mean to the property manager? It means specific forms must be used and proper testing methods and equipment must be utilized. Even the most basic of today's fire alarm systems are much more complicated than older systems.  Today's systems may control the elevators, the air handling systems, locked doors and even send text messages.  An employee activating a manual fire pull station to see if the horns sound no longer constitutes a code compliant test of the system. If a code compliant test and inspection of the system is not conducted annually, the property manager is not only rolling the dice with the lives of the  building's occupants, but also putting injury lawsuits and denied insurance claims on the table.
Affiliated Fire Systems has many property management firms as customers so we know most are conscientious and good at their jobs. We also know that an important aspect of their job is to seek a balance between cost and risk, so what should they look for when reviewing a fire alarm system test and inspection proposal? What does a proper inspection consist of? We'll start down that road in next blog.
Affiliated Fire Systems has the equipment, expertise and support you need to install, test & inspect a problem free fire alarm and/or emergency voice system. If you have any questions regarding your life safety needs, contact us via our 'Contact Us' page on our website, or email me directly at generowe@affiliatedinc.com.