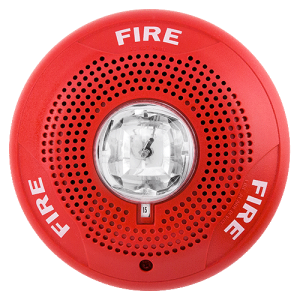 I was recently asked a question about whether two strobes had to be synchronized if they were the only two in a field of view .  The facility's fire alarm vendor told him that if a field of vision had just two strobes in it, they did not need to be synchronized.  When he tried to verify that claim, he felt the visual section of Chapter 18 wasn't clear on the subject.
I replied that the installer is technically correct in that, since 1996, all manufacturers' strobe flash rates were lowered so that viewing two non-synchronized strobes would not produce an overall flash rate considered to be dangerous. As far as code requirements, the NFPA requirement for strobe synchronization is actually found in Chapter 18.5.4.3.2 (for rooms) and 18.5.4.4.5 & 7 (corridors). If this question is being asked for a room, then the intent is to achieve a minimum light output. If achieving that output requires '…more than 2 visual appliances…', then they must be synchronized. In a corridor, "when more than 2 visible notification devices are in any field of view, they shall flash in synchronization." So technically, if just two strobes are in the overall field of view (including non-direct viewing), they don't need to be synchronized to meet NFPA 72 requirements.
That's in a vacuum. However, in the real world, these devices are generally on circuits that have additional visual devices that serve other areas where more than two devices are in the direct or non-direct field of view.  Additionally, the circuit may need be expanded in the future or the space may be reconfigured so that synchronization would be required. Another important real world consideration is the expectation of the facility's reviewing AHJ (Fire Department, Department of Public Health, Joint Commission, etc.). Unless the strobes were installed prior to 1999, the expectation of every AHJ I've dealt with since that time is that every strobe in line of sight will be synchronized. If in response to a citation, the chief engineer of a facility wants to pull out the code book and cite specific code application of strobe synchronization to their reviewer, he may eventually win that battle (or not), but in doing so he may be opening the door to a more 'letter of the code' enforcement regarding other areas of concern.
Affiliated Fire Systems has the equipment and experience you need to ensure you're code compliant the first time around.  Using our state of the art Gamewell-FCI E3, S3 and other life safety systems to meet your life safety needs is the most cost effective and reliable solution at your disposal.  Visit out 'Contact Us' to find out more!
Gene Rowe