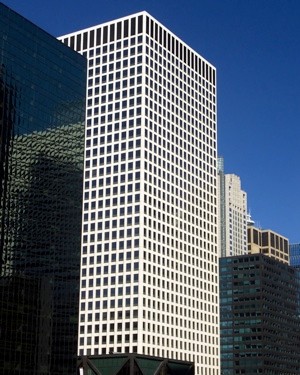 The Chicago City Council passed two amendments to the Chicago Building Code (CBC) addressing life safety deficiencies in high rise buildings built prior to 1975. Previously, these buildings were exempted from the CBC's life safety requirements. Collectively, they are commonly and alternatively referred to as the High Rise Building Ordinance, the High Rise Sprinkler Ordinance, the High Rise Voice Evac Ordinance, Chicago 2012 Ordinance and the Chicago Life Safety Ordinance, or variances thereof.
Chapter 13-78 was added to Title 13 of the CBC in May of 2002 in response to the 9/11 attacks. This substitution ordinance mandated the creation of an evacuation plan for all buildings 80' and taller (defined as high rise buildings). Certain high rises must file their plans with the Office of Emergency Communications. Beyond identifying actions to be taken in specific scenarios, these plans identify key personnel that fill leadership roles in planning, coordinating and executing evacuation plans (to include conducting evacuation drills). Plans must be updated as personnel and building conditions change. The same ordinance added amendments addressing ADA compliant signage at various points of egress within high rise buildings. Chapter 13-76 and 13-196 were amended by adding sections 075 & 076 and 085 & 086 respectively. Chapter 13-76-075 & 13-196-085 added the requirement of ADA compliant signage at each stairwell door, both within and on the occupancy side of the stairwell. Chapter 13-76-076 and 13-196-086 added the requirement of ADA compliant signage at every designated Area of Rescue Assistance (aka Area of Refuge). Chapter 18-30 added section 2620, which mandated floor identification outside the upper left door jamb of each elevator car on every floor. Deadline for compliance was 7/31/02, except for the elevator amendment, which had a 10/31/02 deadline.
An ordinance adding sections 203-209 to CBC Chapter 13-196 was passed that mandated, among other things, the completion of a Life Safety Data Sheet (13-196-203), a Life Safety Evaluation (LSE) (13-196-206), one-way & two-way voice communication systems (13-196-204) and automatic sprinkler systems (13-196-205) for these same buildings. Once completed, the Life Safety Data Sheet must be filed with the Fire Department. Deadline for compliance was 4/1/05. The LSE must be performed by a licensed architect or professional engineer (PE) and was due to the Department of Buildings and Fire Department by January 1, 2006.Buildings subject to a passing score on the Life Safety Evaluation must achieve a passing score no later than January 1, 2012.  In order to achieve a passing score, automatic sprinkler or voice communication systems are usually required be installed, so planning is key. Mandated high rise commercial occupancy automatic sprinkler systems can be installed in three phases, due January 1, 2009, January 1, 2012 and January 1, 2017 respectively.
Update: The deadline to achieve a passing score on the Chicago Life Safety Evaluation was extended to January 1, 2015.
Affiliated is your total Fire Alarm Company. We are a U.L. listed service company with N.I.C.E.T. Certified technicians. If you have any questions about the 2012 Chicago Life Safety amendments, please give Affiliated a call at 630-434-7900 and we can help your company or business address these requirements. To contact us for more information click [here]