UPDATE: 2/19/16  I received notification from a reader regarding a new UL 2196 rated CIC cable available from Radix .  This is an 18 AWG cable that features two Oxygen-Free Bare Copper (OFBC) conductors insulated with ceramifiable silicone rubber, an aluminum/aramid shield, a 22 AWG solid TC drain wire and low smoke zero halogen FRPE red outer jacket.  It's for use as a component of the UL FHIT 28B system, which includes the use of specific raceways, couplings , fittings and hangers.  More information on this new 18 ga. cable can be found at Omni Cable .  Thanks to Shane Schultz of Omni Cable for the update.  Please continue reading or see my other UL 2196 blogs for background on this ongoing issue.
UPDATE: 2/8/16  No change regarding a new UL 2196 standard for silicon insulated CI control cables (14 gauge or smaller) that are listed as a 2 hour stand alone option.  UL is still working to establish test method improvements and testing program protocols for its UL 2196 standard for fire resistive cabling systems and associated installation practices.  For low voltage applications. the 2-hour systems listed below are still the only alternatives to MI cable and concrete encasement.  Remember, the cable that is being referred to as 2-hour compliant is part of a system of cabling, conduit, connectors and hangers that must be installed as a system, using specific types of material.  See the links below for additional information about those systems.
UPDATE: 6/12/15  An additional option to meet 2 hour survivable control cable requirements is the Radix DuraLife Brand FPL (see UL listing here).  Be advised that this and any other cable currently listed under the UL FHJR category are interim program approvals and must be installed as part of the FHIT system shown on its UL certificate.  The particular system associated with this cable is FHIT 28A. As of May 2015, there still are no silicon insulated CI control cables (14 gauge or smaller) that are listed as a 2 hour stand alone option.  MI and MC cables are approved as stand alone options.
UPDATE 8/22/14  It's been a few months since I've blogged about the status of  UL listed fire alarm two hour cables. I've found a  couple of  other low voltage options available (in no particular order or preference) in addition to the cables I've listed in my previous blogs:
Comtran VitaLink Brand Type FPLR/CL3R/CMR for use in System No.

 

FHIT.40 when installed in accordance with the manufacturer's installation instructions dated May 2014.  It's a 14 gauge, two conductor, shielded  that can be pulled in EMT.  Here's a link to the data sheet:
 http://www.comtrancorp.com/images/stories/virtuemart/product/ds35787.pdf
   The cable itself is FHJR.R27557 listed, but must be installed per the FHIT listed Comtran System 40 .
The 16 gauge version is VITALink Brand Type FPL/CL3/PLTC/CMG Shielded (also FHJR.R27557) for use in System No. FHIT.40A when installed in accordance with the manufacturer's installation instructions dated October 2015.
RSCC Wire & Cable VITALink MC Brand Type MC (metal clad) for use in System No. FHIT.120

 when installed in accordance with manufacturer's installation guide dated February 2014 and installation instructions revised February 2014.  Part number

 VM02014-000 is the 14 gauge version linked below:
RSCC Wire & Cable VITALink MC Brand Type MC data sheet
  Again, the cable itself is UL category FHJR.R15365 listed, but must be installed per the FHIT  listed System.120 .
More cables will be added as we get to the end of the year, so be sure to check in for the latest.  I'll have an update from UL shortly as well.
UPDATE May 2014!!!!  There are additional cables that are listed under the FHIT portion of UL 2196.  We've reviewed all the products listed under this category and are not advocating any particular cable, but from a life safety system installation perspective, the most interesting cable that we've seen involves a two conductor, 14 or 16 gauge, solid or stranded, non-shielded cable with an outer ceramifiable, silicon rubber insulation.  Ceramifiable refers to the ability of  the outer insulation to transform into a fireproof ceramic during exposure to fire, thereby maintaining its two hour rating.  This cable is listed under UL category FHJR.R21213, but is not listed to be run exposed.  To be considered 2 hour survivable, it must be installed as part of System 28A in the FHIT UL listing.  This system utilizes 3/4″ EMT and the cable has a nominal outer diameter of .292″, so it's like installing circuit integrity in conduit (CIC) cable.  This is not brand new technology, as the Australian company Olex introduced this product in 2008, but it was just UL listed on February 21, 2014.  Cost:…..that's another matter, but we'll bet it beats building a soffit, a separate two hour enclosure or encasing it in concrete.  However, FHIT System 1850 MI cable does not need a raceway, has a nominal outer diameter of .246″ and offers a shielded version (.364″ OD), so check out your options and requirements before committing. Cost wise, we're not sure how ceramifiable cable compares to MI cable,  but we'll find out and let you know.
In the meantime, be sure to use Gamewell- FCI by Honeywell life safety products in all your life safety projects.  State of the art technology, top of the line functionality and expert application guidance will ensure your project's success.  Utilize our 'Contact Us' page, call us directly at 630.434.7900 or email us at generowe@affiliatedinc.com.
From UL, dated April 3, 2013:
"UL 2196 & ULC-S139 Consensus Standards Update
A joint U.S. and Canada standards working group of the technical committee has been formed to determine what upgrades in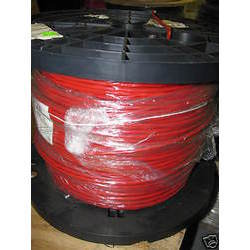 requirements are necessary and to deliver a single, harmonized bi-national standard.  The group was provided a detailed report from the three working groups that were formed in October of 2012. The report included all the variables associated with different types of fire resistive and CI cable, conduit, junction boxes, fittings and other system components, as well as installation methods, tools and materials. The group will focus on a strategy to address installation variables, sampling requirements for testing, and the need for further research.
It's anticipated the work of the joint technical committee will take between twelve and eighteen months to complete.  Further details as to the timeline and key milestone will be provided in a future update."
What is the impact of that statement to fire alarm and emergency voice systems installations?  Let's back up a second for context.  In December 2012, UL re-established an interim standard for fire resistive cable (UL product category FHJR) and for electrical circuit integrity systems (FHIT). To date, three MI cables have been re-listed with the interim standard under the FHIT category.  Products under the FHIT category were generally unaffected by the interim  standard.  No fire resistive cables are approved as of 11/8/13.
The UL technical committee is working on establishing a permanent standard, and has been since 4/13.  Since it estimates completion between twelve and eighteen months, a permanent standard won't be available until 4/14 at the earliest, but probably closer 10/14.  That means utilizing cable wraps, MI cable, two hour enclosures or concrete encasement will probably remain as the only options to attain a two hour rating for the next year.  If work requiring two hour protection from fire is scheduled for mid to late 2014, it would be wise to revisit CI availability before moving forward with an alternate plan.
If you would like more information or have questions, please feel free to contact us at 630-434-7900. Or leave us a comment below and we will get back to you shortly.  For additional information on this and many other life safety topics, contact Gene Rowe at Affiliated Customer Service, Inc., at generowe@affiliatedinc.com or (630) 434-7900