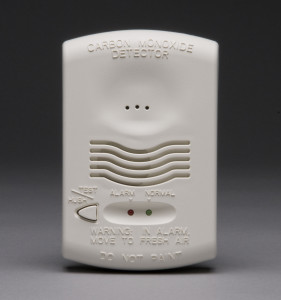 As commercial fire alarm system capabilities increase, designers of record are increasingly combining previously stand alone (single station) carbon monoxide (CO) detection into a supervised, reporting fire alarm system.  If the unmonitored, single station CO detector is unplugged or is otherwise non-operational, no one knows.  A CO detector, or better still, combination smoke/CO detector that is monitored by a commercial fire alarm system will alert and remind the occupants that a device is not working.  Since the functionality of these systems are supervised and regularly tested, it makes sense all around for the following reasons:
Assured operability reduces the owner's liability
One device on the ceiling instead of two or more
One pair of low voltage wire instead of running a 120 volt circuit in conduit
In commercial settings, other building services, such as ventilation, can be programmed to initiate when specific CO detectors alarm
In hotel applications, the front desk and maintenance staff can be alerted to a guest room CO alarm event without fire department notification
These are just a few of the reasons to integrate CO detection with the fire alarm system.  The most important reason, however, is to ensure lives are protected by devices that work the way they are intended to work.  For more information on combination smoke/CO detectors and how to cost effectively deploy them, contact Affiliated Customer Service at 630-434-7900, or leave us a comment below and we will get back to you shortly.