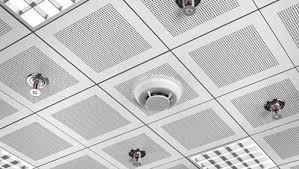 It can be hard to separate life safety code requirements.  Much of it can seem redundant, leading some to over-design when they're not sure what the requirements are.  This can be especially true where sprinklers and detection are concerned.  It's important to remember that sprinklers are meant to control the spread of fire, providing occupants that are not in the immediate area of the fire a chance to safely leave the building or relocate to a protected section of the building. Smoke detectors are meant to give occupants in the area of the fire early warning so they can evacuate the area before the fire prevents them from doing so.  The IBC/IFC, NFPA 101 or a local fire official can mandate what is minimally required, but the owner and designer of a facility must also determine what the kind of protection is appropriate for their occupants.  Sometimes they are helped with their decisions by insurance requirements.
In general, if a business occupancy has sprinklers, it doesn't need smoke detectors.  The occupants are active, moving about and are generally aware of their surroundings.  Should a fire occur, they can smell it or see smoke and will activate the manual fire alarm boxes, as well as alert others.  After hours, the business facility is usually empty, so early warning is not needed.  Of course there are exceptions, such as flammable storage areas or data centers where we do not want fire to ever develop.
Due to the nature of their occupancy, inpatient healthcare facilities generally do require smoke detection in addition to sprinklers.  Early warning in order to take appropriate action regarding immobile patients is essential, as well as preventing explosions via compressed gases and other flammable materials.
Places of assembly generally do not require smoke detection when sprinklers are installed, as there are many eyes and noses to alert the attendees to the presence of smoke before it gets out of hand.
We'll continue with our overall review of whether smoke detectors are required when sprinklers are installed by looking a t residential and educational requirements.  In the meantime, be sure to check our other blogs for insight on other life safety questions you may have and be sure to use industry leading Gamewell-FCI fire alarm/mass notification products in all your projects.
Gene Rowe