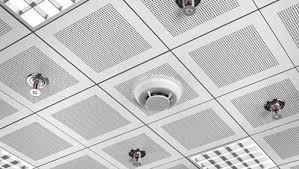 In our previous blog on this subject, we addressed whether smoke detectors are required in business, healthcare and assembly occupancies if they have sprinklers installed.  In this edition, we'll look at general requirements for educational and residential occupancies, based on the IBC/IFC and NFPA 101.
As mentioned in Part 1,  it's important to remember that sprinklers are meant to control the spread of fire, providing occupants that are not in the immediate area of the fire a chance to safely leave the building or relocate to a protected section of the building. Smoke detectors are meant to give occupants in the area of the fire early warning so they can evacuate the area before the fire prevents them from doing so.  The IBC/IFC, NFPA 101 or a local fire official can mandate what is minimally required, but the owner and designer of a facility must also determine what the kind of protection is appropriate for their occupants.  Sometimes they are helped with their decisions by insurance requirements.
Regarding educational requirements, neither the IBC nor NFPA 101 requires smoke detectors in educational occupancies.  However, if the facility does not want to have manual stations (which are required), it must provide smoke detection in the corridors, as well of heat or smoke detection in larger assembly areas and shops/labs.  One other note regarding sprinklered educational occupancies is that manual stations can be eliminated if the sprinkler system automatically activates the fire alarm system and a means to manually activate the fire alarm system from a normally occupied area is installed.
As you might imagine, residential occupancies are more proactively protected by automatic detection.  R-1 is for transient occupancy, R-2 is for multi-unit & high density group occupancies, R-3 is for single family and low density group occupancies and R-4 is for medium density group occupancies.  With the exception of R-4 occupancies, sprinklers have no bearing on detection requirements in R group occupancies.
R-1 occupancies requre fire alarm system connected smoke detection in interior corridors, regardless of sprinklers. Local (single or multiple station) detectors are required in the sleeping rooms, but they can be system detectors as well.  Smoke detection is also required on floors that don't have sleeping units.
R-2 occupancies are required to have local smoke detectors in and near sleeping units, except for college domitories, which are required to have system connected smoke detectors in those locations.  Again, this is regardless of the presence of sprinklers. Smoke detection is also required on floors that don't have sleeping units.
R-3 occupancies are reuqired to have local smoke detection in and near sleeping areas.  Smoke detection is also required on floors that don't have sleeping units.
R-4 occupancies require system smoke detection in corridors & open areas connected to them.  Habitable spaces other than sleeping areas and kitchens are required to have system smoke detection unless they are sprinklered.  Additionally, local smoke detection is required in and near sleeping areas.  Smoke detection is also required on floors that don't have sleeping units.
Remember that local jurisdictions can amend these requirements, so it's important to check with local codes before proceeding.  As always,  Gamewell-FCI fire alarm systems can address every fire alarm scenario with state-of-the-art reliability and flexibility.  Contact Affiliated Fire Systems for more information on how you can protect your occupants at the lowest cost.
Gene Rowe