A correctly designed fire alarm system will save lives and reduce property damage. This is a responsibility you can't ignore. Our specialized sales staff has helped distinguish Affiliated as a top award-winning Gamewell distributor for four years running. Their extensive knowledge and experience with state-of-the-art Gamewell-FCI by Honeywell fire alarm systems enables them to work with you to develop a system perfectly suited for your needs.
Fire Alarm Systems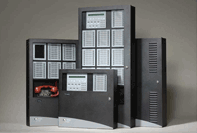 Gamewell-FCI by Honeywell combines a rich tradition of industry firsts with innovation in developing fire alarm systems.
From building and installing the first municipal electric fire alarm system in 1852 to developing self-programming, networked, and sophisticated voice evacuation systems, Gamewell-FCI's history provides industry firsts and technological advances.
Allow an Affiliated salesman to revamp your fire alarm system to meet your needs and the requirements of your local jurisdiction. A salesman will monitor and provide support through all stages of the project, which includes: engineering, ordering parts, installation of all devices, programming, final inspection, monitoring and training on your new system.
Contact an Affiliated salesman for a free quote by clicking [here].
Preventive Maintenance Agreements
Our Preventive Maintenance Programs provide inspections, testing and repairs of your Life Safety Systems at regular intervals. This ensures:
Peak performance of your system
Minimal equipment repair interruptions
Code & coverage specifications are met
Testing and service is done at your convenience
We coordinate with our Valued Partners:
Sprinkler Systems
Fire Pump Tests
Hood/Range Systems
Extinguisher Inspections
An Affiliated salesperson will work with you to customize a unique Preventive Maintenance Program that is right for you. A number of options are available.
Test-Only Agreement
The Test agreement covers testing and inspections for a year and allows for a (1) hour discount off the minimum service call rate for all service calls during the agreement period. Instead of the standard 3 hour minimum service call, a Test-Only Customer benefits from a 2 hour minimum service call. A significant saving over a course of a year.
During the agreement period, Affiliated will supply two (2) trained technicians – one (1) field technician and one (1) control panel auditor. Customer will be provided with immediate documentation of test results and will be notified of any deficiencies found during the inspection(s). Upon completion of the inspection, formal documentation of test results will be available for the customer and the local fire department.
Full Service Agreement
The Full Service agreement covers testing and inspection for a year and all labor and travel for normal equipment malfunctions service calls during the agreement period. Service is available during the regular business hours, Monday thru Friday 8am-4:30pm.
24 Hour Full Service Agreement
This agreement covers testing and inspections for a year and around the clock maintenance service calls during the agreement period. 24 Hour Full Service customers can enjoy great service 24 hours a day, 365 days a year by a certified Affiliated technician. Customers are only responsible for parts and freight with this agreement, saving you the most money.
Contact an Affiliated sales person for a free PMA quote by clicking [here].
Master Clocks & Intercoms
We service Master Clocks and Intercom Systems and we provide equipment from Midwest Time Control, Lathem Time Corporation, Kennyco Industries and Teradon Industries, Inc.
Teradon Industries, Inc. has developed the first of its kind Computer Controlled IP Intercom system. Incorporating easy- to-use software with state-of-the-art communication hardware, Teradon gives you the communication equipment you need for your school or district -quickly and easily. The user-friendly software gives you direct access to the intercom systems. You can change the bell tones, bell schedules, set the date and time or ring bells on demand. Teracom, developed for reliability, scalability and simplicity of use in both hardware and software.
Emergency Lighting
Affiliated can supply testing and inspection of Emergency Lighting and Exit Signs to meet your insurance requirements and your safety needs. Just call us for a competitively priced quote.
In addition, we can provide Emergency Lighting and Exit Signs to meet the needs of every project you may encounter. Styles include economical and high efficiency exit signs using LEDs, photo luminescent units, electrical hookup, battery powered and battery backup emergency and exit lighting. Also available are die cast aluminum exit signs and vandal resistant emergency lighting.