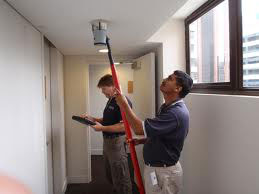 In our last post, we discussed why regular testing and inspection of a facility's life safe system is both required and in a property manager's best interest.  What, then, should a proper test and inspection consist of?  In this post, we'll address proper smoke detector testing.
A true test of a fire alarm system ensures the system will operate as it was commissioned.  Smoke detectors need to activate with an appropriate amount of smoke present.  Most testers just pump smoke into the detector until it activates.  This only ensures that the smoke detector will eventually activate, not whether it will operate before conditions become dangerous.  A proper NFPA 72 smoke detector test will utilize a smoke generator, which introduces a measured amount of smoke into the smoke chamber to ensure the detector's sensitivity is proper.  A smoke detector's sensitivity can also be obtained through the fire panel's report section, though some approving authorities (notably healthcare) require a functional sensitivity test. Be sure your testing company is testing per the method your approving authority requires, as you will be cited if the testing is not done properly, not the testing company.  It's best to remember that smoke detectors tested by NFPA 72 standards will operate when needed, and that's the real aim of code compliance.
Affiliated Fire Systems has the equipment, expertise and support you need to install, test & inspect a problem free fire alarm and/or emergency voice system. If you have any questions regarding your life safety needs, contact us via our 'Contact Us' page on our website, or email me directly at generowe@affiliatedinc.com.