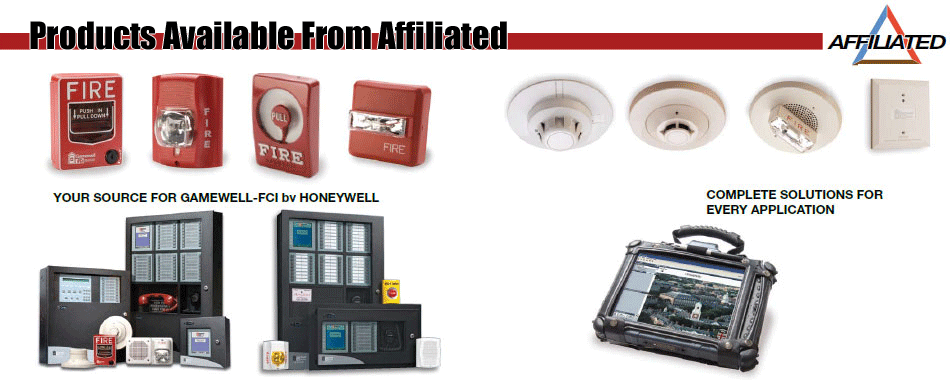 Getting your system installed correctly and certified without hassle is reason enough to choose Affiliated. We work proactively with electrical engineers, general contractors and electrical contractors to mesh the needs of the end user with code requirements. We bring the following attributes to every job we do:
Knowledge
• International Fire Code
• NFPA 72
• NFPA 101
• IDPH requirements
• Municipal requirements
• City of Chicago Codes
and policies
• Extensive knowledge of all
manufacturers' equipment
Experience
• Proactive identification and
resolution of potential
conflicts
• Short turn-around time of
submittals
• Good rapport with local
Fire Departments
Ownership of Process
• On site engineering staff
ensures accurate shop
drawings
• Scheduled pre-installation
meetings with the installer
and the technician
• Proactive communication
and scheduling with our
customers
• Proper documentation
submitted in a timely
manner
GAMEWELL-FCI'S INNOVATIVE
E3 LIFE SAFETY SYSTEM CAN
CUT COSTS AND
INSTALLATION TIMES
Never before has a fire alarm system delivered such remarkable performance and comprehensive protection at an affordable price.
Our two-wire network delivers:
Digital Messaging
Spoken Warnings and Instructions
Simultaneous Paging & Messages
Firefighter Telephone Communications
Peer-to-Peer Communications
Network Control
True peer-to-peer exchange of data packets ensures that each segment of the system operates independently, even if other segments have been damaged in a crisis event. The E3 Series is built to survive virtually any emergency situation. It increases safety for building occupants while reducing the chances of major property loss.
The simplicity of this system allows Affiliated to offer a state-of-the-art integrated fire detection, alarm and mass notification system package at a cost that is extremely competitive.
PRODUCTS AVAILABLE FROM AFFILIATED
Fire Alarm Equipment
Gamewell/FCI (Honeywell)
Mass Notification
All 3rd party equipment
Audio/Visual Products
Smoke and Duct Detection
Peripheral Equipment
Safety Technology International (STI)
Space Age Electronics
Off Site Monitoring
Emergency 24
Critcom
AES Radio
Sprinkler Monitoring
Area of Rescue