From UL, dated April 3, 2013:
"UL 2196 & ULC-S139 Consensus Standards Update
A joint U.S. and Canada standards working group of the technical committee has been formed to determine what upgrades in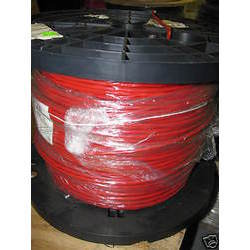 requirements are necessary and to deliver a single, harmonized bi-national standard.  The group was provided a detailed report from the three working groups that were formed in October of 2012. The report included all the variables associated with different types of fire resistive and CI cable, conduit, junction boxes, fittings and other system components, as well as installation methods, tools and materials. The group will focus on a strategy to address installation variables, sampling requirements for testing, and the need for further research.
It's anticipated the work of the joint technical committee will take between twelve and eighteen months to complete.  Further details as to the timeline and key milestone will be provided in a future update."
What is the impact of that statement to fire alarm and emergency voice systems installations?  Let's back up a second for context.  In December 2012, UL re-established an interim standard for fire resistive cable (UL product category FHJR) and for electrical circuit integrity systems (FHIT). To date, three MI cables have been re-listed with the interim standard under the FHIT category.  Products under the FHIT category were generally unaffected by the interim  standard.  No fire resistive cables are approved as of 11/8/13.
The UL technical committee is working on establishing a permanent standard, and has been since 4/13.  Since it estimates completion between twelve and eighteen months, a permanent standard won't be available until 4/14 at the earliest, but probably closer 10/14.  That means utilizing cable wraps, MI cable, two hour enclosures or concrete encasement will probably remain as the only options to attain a two hour rating for the next year.  If work requiring two hour protection from fire is scheduled for mid to late 2014, it would be wise to revisit CI availability before moving forward with an alternate plan.
If you would like more information or have questions, please feel free to contact us at 630-434-7900. Or leave us a comment below and we will get back to you shortly.  For additional information on this and many other life safety topics, contact Gene Rowe at Affiliated Customer Service, Inc., at generowe@affiliatedinc.com or (630) 434-7900