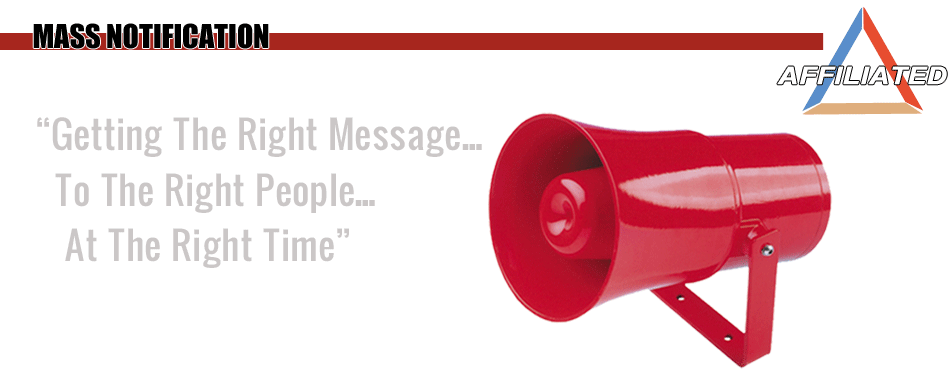 The demand for mass notification systems in Chicago is fast rising because it offers the unbeatable convenience of effectively getting a message across a vast audience. If you are looking to install one or more of the said system in your school, office, apartment, and other commercial or residential building, we can help.
Affiliated Customer Service, Inc. has been catering to all the fire alarm needs of businesses in the South Wisconsin and Chicagoland areas since 1983. You can rest assured that our fire alarm and notification systems are of the highest quality and will give you the best value for your money.
A mass notification system is needed in a variety of situations. Warning and giving direction to people regarding weather events, workplace accidents, criminal activities and other life safety threats will save lives. Simply put, it means getting an accurate message about a dangerous situation reliably delivered to a large number of people in a timely manner. That's what it's all about.
There was a time when mass notification systems were a privilege enjoyed only by bigger institutions and agencies. Fortunately, technology advancements allow for a customizable solution at a fraction of what it would have cost just a few years ago. Smaller components, less wire and lower costs make a mass notification system viable in almost any scenario. Now, instead of being meant for government agencies or college campuses meeting Clery Act requirements, a mass notification system is a smart choice for a variety of facilities.
Additionally, since national fire codes now allow emergency voice systems to be used as general announcement systems, facility owners can save the cost of installing public address systems. It just makes sense to be able to control the message instead of creating uncertainty or chaos with a traditional blaring tone.
If you think this makes sense for you, we can even come to your office to present the topic as an AIA accredited lunch & learn seminar, earning participants continuing education credit for certifications they may hold. Contact us today by calling 630-434-7900 to find out more about the viability of mass notification systems in your facility.