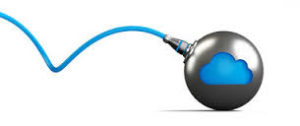 Utilizing the internet to send fire alarm signals to a monitoring station is a subject that confuses end users, designers and installers alike.  Many installers will just say 'You can't' regardless of the equipment currently used, even though that's usually not the case.  While it's true that older, existing equipment probably can't use VoIP, there are options that will adapt the current signal to one that can use VoIP.  We'll take a look at what equipment is required to utilize Voice over Internet Protocol (VoIP) as a code compliant transmission so you can give an accurate response to the question.
Until recently, the transmission of a fire alarm panel's status to a monitoring station has been accomplished by utilizing copper phone lines in some manner.  The migration to a digital method of communicating status allowed for more specific information to be sent, but still used copper phone lines.  These lines are now being replaced by other conductors:
Cable – Utilizes coaxial cable.  Not used for VoIP
Fiber – Typically used for VoIP.  For standard accounts, the fiber doesn't actually connect to the business, but terminates at nodes, which feed the individual accounts with coaxial cable.
Wireless – These are radios that transmit signals via a mesh network to the monitoring station
Since we're focusing on utilizing VoIP, let's look at the fiber option.  In order to use a VoIP account, you must:
Be able to access the dial tone without dialing a number
Install a communicator that is specifically used to transmit over the internet
Ensure all IP connection equipment is powered via same AC circuit as the fire alarm panel.  That includes the cable modem.
Ensure all IP connection equipment has a secondary power supply (battery backup).  That means a UPS for the cable modem.
Ensure receiver at monitoring station matches transmitter protocal (AlarmNet, Sur-Gard, etc.)
Verify whether the owner has to subscribe to the transmission network
If there is an existing communicator, the output of that device may be able to tied directly to the input of the new communicator.  The new equipment will translate the information from the existing transmitter, so the programming and interface with existing equipment would be minimal.
Thanks for reading and don't forget that Affiliated Fire Systems and Gamewell-FCI have all the equipment and expertise to get your system transmitting via the internet, as well as other alternate methods of communication.  Contact Affiliated Fire Systems for all you fire alarm and life safety needs.
Gene Rowe
Affiliated Fire Systems, Inc.