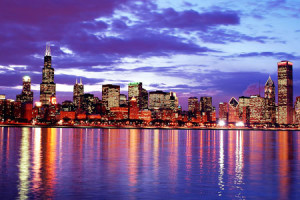 The Chicago Building Code (CBC) defines which buildings are required to have fire alarm systems and is specific about how these systems are to be put together.  What comes to a surprise to those that design and/or install these systems is, among other things, what is included and not included regarding notification of an alarm condition.  One common method of notification that is not included for Class I fire alarm systems is visual indicators, usually strobes.
Most life safety designers/installers assume that audible and visual indicating devices are joined at the hip for publicly accessible areas and place them as a combined device.  However, the CBC only requires fire alarm audible notification for buildings that require Class I systems (CBC Chapter 15-16-1280).  A Class I system is a type of fire alarm system required in schools, daycare facilities, single room occupancies (SROs), dormitories, institutional occupancies and non-high rise hotels (CBC Chapter 15-16-110).  Visual indicators may be used to supplement the audible signal, but may not be used in lieu of audible signals, even in facilities for the hearing impaired.  This often causes confusion regarding whether strobes should be installed in a Chicago Class I fire alarm system.  Although designers of record must keep their designs efficient, not including strobes just because the CBC doesn't require them may not be serving the best interests of their client.  In order to avoid having to go back into finished areas and change orders, they should find out if the building owner has other considerations that may require strobes (insurance requirements, ADA applicability, etc.).  For example, if the facility receives federal reimbursement of any kind, ADA requirements will probably need to be met if they want to keep receiving those reimbursements, mandating the installation of strobes.  If other concerns drive the installation of strobes, they should be spaced and installed per NFPA 72 Chapter 18, but a combined audio/visual in Chicago must be mounted at 96″ above finished floor.  When the question of whether strobes should be installed in a required Chicago fire alarm system arises, it's important to remember that the installation of strobes in a Chicago Class I system is driven by requirements other than the Chicago Building Code.
Affiliated Fire Systems has been installing Class I systems in Chicago since 1983.  Contact us to get more information on how to efficiently remain code compliant with your project.
Gene Rowe